Professional Communication
Profile
rikutis consulting advises small and medium-sized companies on investor relations and corporate communication since 2011.
We are passionate about it, and approach it with mind and heart.
We see ourselves as a service provider for our clients. Our claim: Top-quality consultancy and swift, flexible service. By specialising in corporate communication and investor relations we ensure our clients enjoy a high level of expertise as well as high-impact and bespoke services. We life up to the needs of our clients and offer our services depending on their requirements as tailor made communication service components as a carefree all-inclusive package.


Why rikutis consulting?
Owner-managed and independent
Two contact persons, two-person-integrity, dual control principle
30 years of financial markets business experience
Cost-conscious
Comprehensive network

For our clients this means: They work with a motivated team on a level playing field who identifies with their goals, a team that makes service, initiative and a forward looking approach its characteristic features. We strive to make your communication successful – with our professionalism, our network, and personal commitment.


Philosophy
A successful corporate communication lives on perceivability oft the language, consistency and transparency as well as the right identification of information needs of the addressee (shareholder, business partner and stakeholder). Corporate communication lives on trust of journalists and addressees in the statements and images given by companies and its protagonists.
Establishing the maxims trust, transparency and continuity binds resources and takes time. In addition, a sensitive feeling for what the public needs with regard to information and an instinct for the correct timing are indispensable for a coherent overall concept for communicating new information and messages.
rikutis consulting offers hands-on support and strategic consultancy; it offers you an independent opinion and forges links to journalists and the capital market.
Communication is worthwhile for every company: a self-determined level of awareness, favorable commercial and emotional positioning with regard to the financial market, clients, suppliers, and the public. For exchange-listed companies communication targets a fair evaluation and thereby on a durable access to the capital market on attractive terms.
The impact of experienced communication consultancy can be measured – and has manifest results. That is the standard we set ourselves.
rikutis consulting masters communication.


Investor Relations
Shareholders are demanding, expect precise information, relevant key figures and sound prospects – a company always benefits from dialog. Steering and managing markets' expectations are strategic goals as well as enhancing the liquidity in share trading. Communication helps to foster a company's perception among capital market participants and stakeholders via reliable management statements and measurably, forward looking messages. It is all about building confidence and continuity.
rikutis offers operative project-based support in daily IR work through to the complete outsourcing of IR tasks and provision of the first point of contact.
Revive / intensify the attention of the financial community:

advance the equity story
expand investor contacts
increase research coverage
placements in the capital market press
Monitoring, preparation and execution of mandatory notifications (e.g. ad hoc announcements, voting rights announcements, Directors' Dealings etc.) incl. coordination with BaFin / Deutsche Börse AG
Preparation & critical evaluation of investor presentations
Critically evaluate, update and improve the IR website
Conceptualize and edit annual and quarterly reports as well as shareholder newsletter
Conceive and write speeches and presentations for AGMs and (balance-sheet) press conferences
Perform perception analyses & position defining on issuers in the financial community
Place the company in stock-exchange related media / financial press
Provide independent advice pre IPO, individually supporting management board

Definition of key financial figures & non-financial performance indicators for reporting purposes
Prepare company to IPO duties and communication
Corporate Governance Report and Declaration of Compliance
Capital Market directed Reporting
Corporate Communication & People PR
Actively cultivate your public image, distribute company information and occupy positions. rikuts will work on a strategy and on content together with you.
Strategic consulting on corporate communications, including special successful and crisis situations
Develop core messages
Compose press releases, speeches and personal articles
Operative project-based support in daily PR work through to outsourcing

Provide first point of contact for journalists and stakeholders
Develop and edit image brochures, employee information, product information, trade fair flyers
Internal communications
Placing of directors/management in the key German media
Perception analyses in the press on the company
Press training (interview situations, performing in front of a TV camera)
Interim Management
You need professional support in the company for a specific period of time?)
Create / fine-tune IR/PR department prior to IPO, bond issuing, new CEO, new communications strategy in the firm or the like
Handle ongoing communications activities in the event of illness, sabbatical, maternity leave etc.
Handle press spokesperson function in special situations such as turn-around, crisis, change of owner etc.
rikutis takes on tasks as well in the company on the spot to ensure as smooth a continuation of communication as possible. Social skills, empathy swift familiarization and appropriate conduct all secure successful communications – both internal and external.
Further Education & Training
camera training, interview training – learn to use the media for your own messages
Employee training on press- and PR work
Employee training on capital market communication
Seminars on press work
Seminars on PR work
Training in front of the camera for the management and employees
Interview training for the management and employees
rikutis offers customized training in these specialist areas and contacts to training facilities.
Falk von Kriegsheim
Over 15 years of experience in investor relations and corporate communication for small and medium-sized companies as executive IR Manager / Head of Corporate Communications as well as senior advisor.
Master of Economics
Investment Analyst (CEFA Investmentanalyst/DVFA)
Thomas Schnorrenberg
Over 15 years of experience in investor relations and corporate communication for small and medium-sized companies as Head of IR, consultant and journalist.
Business economist
Author of the specialist book "Investor Relations Management" published by Springer Gabler.
Gerd Rückel
About 20 years experience in capital markets, eleven years Senior-Consultant for an renowned IR/PR-agency and as Head of Communications of a capital market-oriented company, further six years as financial journalist at Platow Brief.
Master of Business Administration
Investment Analyst (CEFA Investmentanalyst/DVFA)
Investor Relations Network
rikutis consulting engages in carefully structured collaboration with renowned banks and financial service providers in order to broker investor contacts, and to activate investment banking, corporate finance, investment research and designated sponsor services. Moreover, joint-stock companies are by law obliged to release annual reports, and here rikutis consulting can rely on proven and experienced service providers for the layout, image concepts and print.
rikutis can rely on a continually developing, sound network in the financial sector.
Corporate Communication Network
rikutis consulting can rely on the support of renowned graphic art agencies, layout specialists, printers, Web 2.0 experts, professional photographers, event agencies and specialists for public affairs and PR campaigns not to mention book concepts – for all aspects of PR work and corporate publications.
rikutis can rely on a continually developing, sound network in the finance and business press.
References
rikutis consulting provides services to clients from a wide variety of industries. These include publicly listed but also small and medium-sized companies. Our customers can rely on rikutis consulting services for smaller projects and outsourcing solutions – within the framework of long-term support.
We will be happy to provide you with respective references in the course of a personal talk.
Download pictures
rikutis will provide pictures and its logo upon request. Please see contact details.
Publications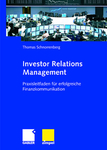 Investor Relations Management: A practical Guide to a successful financial communication, Thomas Schnorrenberg

Handbook PR & Legal, Alexander Unverzagt, Claudia Gips
Contact
rikutis consulting
Falk von Kriegsheim
Tel +49 2861 9293409
Mobil +49 172 9837109
fvk@rikutis.de
Zwei-Linden-Weg 9
46325 Borken (Westf.)
Germany
Thomas Schnorrenberg
Tel +49 40 53299401
Mobil +49 151 46531317
ts@rikutis.de
Airport Center (Haus C)
Flughafenstr. 52a
22335 Hamburg
Germany